Filter Reviews
Size
Quality
Look
Backpack
Material
Pockets
Design
Bag
Construction
Feel
Space
Trips
...
Zippers
Access
Pack
Handle
Lander
Crash Pad
Backpack
Material
Pockets
5 star rating

4 star rating

3 star rating

2 star rating

1 star rating
Everything I expected
Review by Brandon B. on 3 Jul 2018
review stating Everything I expected
I researched and researched travel bags as I'm constantly circling the globe. I just finished a 4 day trip to Busan Korea and fit all my clothes, toiletries, two books, laptop and extra shoes and still had a little extra room. The bag has great handles at all points so it's easy to manipulate and grab. I love the roll feature of the main compartment and the fact that you can accesss it without actually unrolling it. The two points that I found wanting were that the zippers for the front pocket don't come easily (but you trade that for water resistance, which I'm willing to sacrifice to keep my stuff dry...i actually added a twist tie to th front zipper pocket and it gave the needed leverage and I'm still able to keep my stuff from getting wet) and the front pocket could maybe benefit from a couple more divider pockets for the small accessories. Otherwise, I haven't found a better backpack style travel bag out there.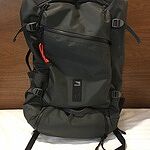 Glad you love it, Brandon. Thanks for the feedback and support!
Great looking backpack with lots
Review by Chris H. on 9 Oct 2019
review stating Great looking backpack with lots
Great looking backpack with lots of compartments to keep me organized.
A Powerhouse
Review by Michael E. on 17 Aug 2019
review stating A Powerhouse
This bag can handle a 5 day trip easily! With all of the compartments and well-thought out design of the bag...say goodbye to suitcases and say hello to minimalistic travel!
Great all around pack
Review by Kirk F. on 13 May 2019
review stating Great all around pack
Great all around pack
Great bag
Review by Allen G. on 17 Feb 2019
review stating Great bag
Love the style, and very functional
Q: Does the Traveler come with a kit and two parcels or are those sold seperately?
A: It is sold separately. That was a special for our Kickstarter campaign. Sorry for the bad news! Everything is 30% off now though for Black Friday--while supplies last!
Q: How big are the water bottle pockets on the traveler and commuter?
A: Both bags have the same size water bottle pockets The Traveler has two pockets though, while the Commuter has just one. They are 7.5 inches deep and 4 inches wide.
Q: What are are the different dimensions between the travel pack and the commuter? I am trying to decide between the 2 because I am a taller person at 6'4 and will use it as an everyday and travel pack.
A: The Traveler is 60cm (height) x 33cm (width) x 20cm (from front to back). The Commuter is 53cm (height) x 33cm (width) x 18cm (from front to back). Hope that helps!
Q: I really want a 35L traveler backpack of "black" color.
Don't you have no plan to make black one?
From Japan. Thanks.
A: In the immediate future, we don't have plans to make a black version. We think you'll really love this color though!
Q: hello, I sent several mails for the return of the backpack because I need the RMA, when they answer me?
A: Really strange -- will you check your junk folder? Either way, we've sent the feedback to our support team. Thanks for the heads up.