Filter Reviews
Size
Pockets
Look
Compartment
Quality
Material
Design
Backpack
Feel
Construction
Bag
Zippers
...
Space
Access
Pack
Trips
Idea
Handle
Compartment
Quality
Material
5 star rating

4 star rating

3 star rating

2 star rating

1 star rating
Everything I expected
Review by Brandon B. on 3 Jul 2018
review stating Everything I expected
I researched and researched travel bags as I'm constantly circling the globe. I just finished a 4 day trip to Busan Korea and fit all my clothes, toiletries, two books, laptop and extra shoes and still had a little extra room. The bag has great handles at all points so it's easy to manipulate and grab. I love the roll feature of the main compartment and the fact that you can accesss it without actually unrolling it. The two points that I found wanting were that the zippers for the front pocket don't come easily (but you trade that for water resistance, which I'm willing to sacrifice to keep my stuff dry...i actually added a twist tie to th front zipper pocket and it gave the needed leverage and I'm still able to keep my stuff from getting wet) and the front pocket could maybe benefit from a couple more divider pockets for the small accessories. Otherwise, I haven't found a better backpack style travel bag out there.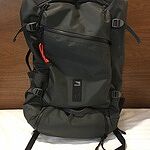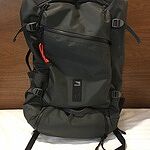 Comments by Store Owner on Review by Brandon B. on 3 Jul 2018
Glad you love it, Brandon. Thanks for the feedback and support!
Great looking backpack with lots
Review by Chris H. on 9 Oct 2019
review stating Great looking backpack with lots
Great looking backpack with lots of compartments to keep me organized.
A Powerhouse
Review by Michael E. on 17 Aug 2019
review stating A Powerhouse
This bag can handle a 5 day trip easily! With all of the compartments and well-thought out design of the bag...say goodbye to suitcases and say hello to minimalistic travel!
Great all around pack
Review by Kirk F. on 13 May 2019
review stating Great all around pack
Great all around pack
Great bag
Review by Allen G. on 17 Feb 2019
review stating Great bag
Love the style, and very functional
Q: Is this backpack 100% vegan?
A: We don't use any animal products in our bags.
Q: Why is there no hip belt provided on the traveler 35L? Seems that with all the weight it can hold that it would have been a great addition or even a detachable one.
A: Great question. The weight of the bag gets dispersed really well with the chest strap that's included. In all of our testing, including our team and our ambassadors, we did not think it needed a waist strap. You'll love it!
Q: When can I purchase this bag? I am very excited for it.
A: You can purchase it today and it will ship out in January, when it's ready. Thanks for the support!
Q: What are the physical dimensions of the Traveler and how much does it weigh?
A: A: This bag is 48oz and 60cm (height) x 33cm (width) x 20cm (from front to back).
Q: What about snow how does the back stack up?
A: We're from Utah, so we made sure it works great in the snow. The bag is water-resistant. Thanks for the interest!