Getting Back to Travel with Cascade®—the Best Wireless Travel Charger
Posted On: Fri Jun 04 07:00:00 GMT 2021
A lot of people are ready to travel again. If you're one of the 60% of Americans who are planning to travel more in 2021 than you did in 2019, it's time to review your travel gadgets and general preparations. Plus, some of the old travel gear is likely broken or outdated.
One of the biggest travel challenges is keeping all your smart devices charged and ready when you need them. This much hasn't changed. What has changed are the most popular devices and technologies for portable power banks. Discover why the Cascade is the best wireless travel charger on the market today. Pick up this wireless charging power bank before your next adventure to make your travels that much easier and more enjoyable.
What Makes Cascade the Best Wireless Travel Charger
Check out the collection of features that make Cascade different from other travel battery chargers out there:
• Pass-through charging and an extra charging port means you can start each day with two fully charged phones and a fully charged power bank. With 18W PD fast charging, you don't even need to charge overnight. You can almost completely recharge your phone during a long shower.

• 10,000 mAh charging power should be enough to charge most smartphones three times or two times for bigger capacity batteries. Use it all day to keep your phones charged worry-free.

• While out and about on your adventures, the Qi wireless charging and phone securing band really come in handy. You can keep both devices securely attached to each other for safety and reliable charging.

• The IP-65 waterproof and dustproof rating means you're good to go in a rainstorm, dust storm, any storm really. Don't let the elements scare you off. Just don't submerge the power bank in water for an extended period of time.

• At 5.74 x 3.25 x 0.93 inches, the Cascade is incredibly compact for a travel battery charger with this much charging capacity. Easy to pack and easy to use, it's the perfect tech gadget for a portable wireless charger.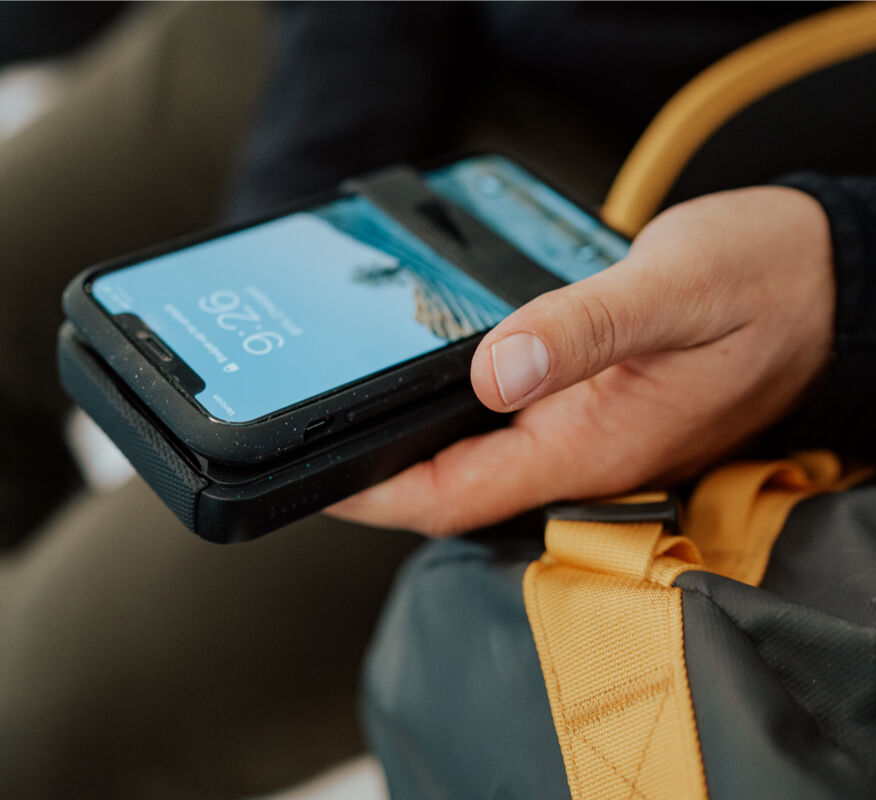 More Travel Gadget Tips for 2021
A wireless and travel friendly power bank solution is an important piece of travel gear, but it's not the only thing you need. Check out these general travel tips and additional Lander gear as part of getting back to travel, taking your vacation experience to the next level.
• Even wireless chargers need somewhere to charge themselves. For international travelers, a universal power adapter is essential. Depending on the device and destination, this adapter may also need to be a power converter to handle the differences in voltage.

• Lander travel bags - Looking for tough, made-for-any-climate travel bags? Check out our line of different size outdoor and travel bags. Taped seams and a crash pad create a waterproof compartment for your laptop or other sensitive tech gear. The main cargo section includes smaller compartments for easy organization.

• One of our sister brands, BodyGuardz®, has a great travel gadget in the Portable 5-in-1 Emergency Hub. This combo device has a power bank, night light/flashlight, emergency alerts, personal alarm, and FM radio for better peace of mind while traveling.

• Along with extra power, you may want to pack an extra portable light. Lander has several lighting options to meet your travel needs. The Cairn® XL Smart Lantern is both a lantern and power bank. Looking for a smaller lantern for traveling? Check out our Cairn Mini and/or rechargeable Kiva headlamp.