10 Tech Gear Gadgets You Need for a Backpacking Adventure
Posted On: Wed May 18 09:29:00 GMT 2016
10 Tech Gear Gadgets You Need for a Backpacking Adventure
If you're planning to go deep into the wilderness for an adventure that gets you back in touch with nature, you don't have to completely unplug if you don't want to. The tech tools of today have expanded to include plenty of high tech gear and gadgets that you can take with you, even on an outdoor adventure. Your favorite pieces of gear have been upgraded, making things easier and more convenient when you're out on the trail. You can still enjoy the serenity of the wild, however, you can feel the security of remaining connected to civilization. Here are our favorite picks from Lander and beyond for the high tech gadgets you need for a backpacking adventure.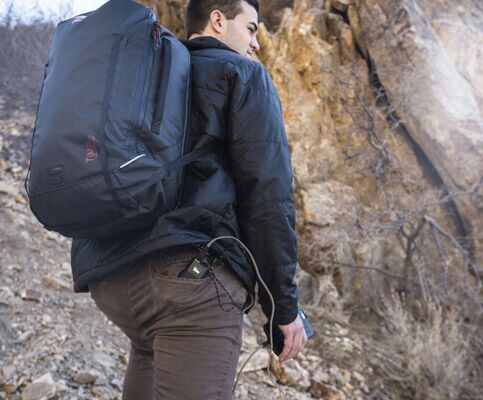 1. Light
One of the most important things you are going to need when you go out on a camping trip is a source of light. When the sun goes down out in the depths of the mountains or the forest, there is a darkness like nothing else. You can light the way with a variety of lights that use sustainable power sources such as sunlight. A solar powered lantern, such as the MPOWERD Luci, can charge all day in the sun and keep your space illuminated at night when you're getting ready to wind down for the day.
2. Water
Hiking all day in the woods means that you're going to need to stay hydrated in order to keep up with the demands of your schedule. Packing tons of plastic water bottles is not something that is practical due to their heavy weight and massive waste. Backpackers prefer water bottles that also double as filtration systems, allowing for a clean and refreshing way to replenish your lost fluids. A great option is the Water Filtration Cup from Grayl.
3. Power
Today's backpackers must stay connected to home with their phones or tablets. Even the most remote of locations have enough access to your network so that you can get a signal in case of emergency, or if you need to maintain regular contact with someone back home. The biggest problem is maintaining enough of a charge on your devices. You can keep your battery running for your personal mobile device by using a portable power charger. The Portable Cascade Powerbank from Lander is a great option for those on the go.

4. GPS
Next, you are going to need some way of finding out where to go. Your best bet is to bring along a high-powered GPS that can lead the way. While many GPS options are available on tablets or phones, the best choice for hikers navigating the networks of trails and back country continues to be specialized GPS units designed for trail hiking. One choice that is preferred by backpackers is the Garmin GPSMAP 64.
5. Shelter
When you're ready to make camp for the night, you can provide yourself with a more reliable shelter if you choose one of the many high tech camping tents that are currently available. Instead of relying on an old fashioned tent, try going with something that is a little more elaborate and convenient such as the Heimplanet Tent. Small and lightweight to carry, it can be set up easily with its inflatable air pump, offering you and a friend a secure place to sleep for the night.
6. Sleep
Once you've settled down for the evening, you want to be cozy and comfortable while you rest. Technology today has made it possible for sleeping bag designers to create products that are lighter, warmer and easier to setup to make for a relaxing night in your tent. The Airbender 20+ from Eddie Bauer offers backpackers a lightweight sleeping bag that can be unrolled and ready for a restful sleep in minutes.
7. Clean
Even though you're out in the wilderness, you shouldn't have to suffer by being dirty or stinky during your trip. One option to keep you fresh and clean is to pack a portable shower solution, such as the Nemo Helio Pressure Shower, for those days when you're nowhere near a campsite. This way, you can feel more comfortable, no matter how much you sweat during the days spent climbing the trails.
8. Sound
If you want to experience your own personal soundtrack while you scale the obstacles during your hike, you can go beyond your standard set of ear buds. The X-1 Surge Contact Waterproof Headset can keep your music going as you make your way through the outdoors. No matter what the weather is like, you don't have to worry about the music coming to an end.
9. Food
When you're deep into the back country of some of the nation's treasured national parks or trails, there may not be any options when it comes to a hot meal. You can suffer through these times by packing prepackaged camping food that doesn't need to be heated, however, what you really want is something warm to fill your belly. Carrying several different cooking tools can add too much weight to your pack. That's where something like the Primus Eta Spider Stove can help. This cook stove offers a unique all-in-one product that combines your stove with all of the basic cookware. That way, you can simply pack one item instead of several different pieces.
10. View
One final thing that you should consider adding to your arsenal of tech gear for your camping trip is a set of high quality binoculars. You want to look for something that is light, durable and powered for the challenges you're about to face on this type of trip. The Nikon Monarch 5 8x42 set can help you find what you're looking for, no matter how far away it is from your current vantage point.

As you get ready for a trip deep into the network of twisting paths and intricate trail systems that cover our country, you can make your trip even more successful by including some of our favorite pieces of high tech outdoor gear. Getting back to nature can help you feel more connected to yourself and your planet, and when you take advantage of all of the new innovations that technology offers, you can have a more enjoyable trip, and you can additionally stay connected to what's important back at home.