The Top 10 Tech Tools to Take While Traveling
Posted On: Wed May 18 09:30:00 GMT 2016
The Top 10 Tech Tools to Take While Traveling
When you're in the process of getting ready for a big travel expedition, it's important to choose a few tried and true tech tools that you can take along for the voyage. If you're away from home, you want to be able to access your most important information as well as document all of the exciting details of your adventure. With today's limits on the weight of luggage, you have to be choosy when it comes to the tools you take along with you. Lander can help you with some of your tech gear travel solutions. Here is what we recommend.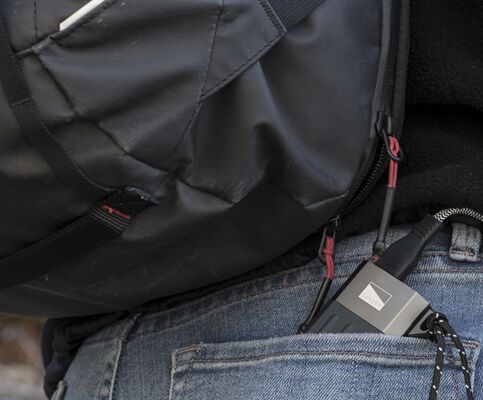 1. Timp Messenger Bag
The first thing you're going to need is a way to transport all of your tech stuff. It's important to choose a storage bag that can handle the heavy weight of some of your favorite tech tools while also being able to protect any items from getting damaged. The TIMP Messenger Bag from our product line at Lander has a weather resistant coating on its fabric, keeping your electronics safe from the weather elements. Its interior system of pockets gives each of your devices a place inside.
2. MacBook Air
When you need to bring along a computer for your trip, either for some work related tasks or to help you stay connected to the world back home, you want to choose something lightweight and easily portable. Our pick is the feather light MacBook Air. At just about three pounds, this light laptop won't weigh you down when you're going through the airport to get to your destination. Despite its small size, it offers great performance and solid functionality for all of your important work.
3. Nikon D5500
When you're out and about, touring the sights of a new destination, you want to document everything with a camera that can capture the fine details with amazing quality. For a DSLR choice, we pick the Nikon D5500. While this camera isn't cheap, it can elevate your photography game and wow everyone back home when you show off the pictures of your journey. This small camera packs a powerful punch when it comes to stunning pictures.

4. Kindle Paperwhite
If you're planning a lazy week at the beach, you want to be able to get some time to read the latest bestsellers. The Kindle Paperwhite e-reader offers book lovers a way to access hundreds of titles without packing their suitcase full of heavy paperbacks. It can handle the extreme glare from the sun, so you can continue focusing on what's going to happen next in your story.
5. Cascade Powerbank
When you need a quick charge for one of your many mobile devices, the Cascade Powerbank from Lander is one of your top choices. This powerful little charger offers you a way to extend the battery life of your devices when you can't access an outlet on a wall. When your journey has you going to unfamiliar places that may not have the same level of comfort as your own home, our power charging solution products can help.
6. iPhone 6 Plus
While there are many different smartphones on the market, none are as powerful as the popular Iphone 6 Plus. Larger than its predecessors, the Iphone 6 Plus gives users the convenient features of a smartphone and access to a slightly larger screen. When you have some downtime and want to access the Internet or stream some video, you don't have to rely on a computer or tablet with this product. Its vibrant and spacious view can give you a better experience with your media, while also providing access to your email, social media and other important factors of your life.
7. Bowers & Wilkins C5 Series 2 Headphones
When it's time to take your trip, you should consider upgrading your headphones to something a little more comfortable and with a more complete sound experience. With all of the downtime associated with a big trip, such as going through security, waiting at the airport, traveling on the plane and the other times when you're waiting for the next thing to happen, you can keep your mind busy by listening to an audiobook or your favorite tunes. The Bowers & Wilkins Headphones give your ears a relaxed fit without sacrificing the sound quality.
8. Grid-it System
Today's travelers are bringing more devices and tech tools onto their trip than ever before. Keeping track of everything can sometimes get tricky. The worst feeling in the world is knowing that you left something expensive and important behind in your hotel room after you're going back on the long journey home. Avoid the possibility of this happening by choosing the Grid-it organizational system to help keep all of your gear securely in one place. The Grid-it offers an easy connecting strap system that makes all of your devices easily accessible and secure.
9. Universal Power Adapters
Traveling through different countries means that you sometimes have to figure out power connecting solutions. Instead of buying specific plug adapters for each country that you visit, try investing in a one-size-fits all type of solution or universal power adapter. Having several of these on hand is essential for people who can't go without their devices or tech gear when they go to a new place.
10. EatSmart Precision Voyager Luggage Scale
Finally, with airline restrictions about the weight of your luggage getting even tighter, you need to have a portable solution to check the weight of your bags before you get the airport. There's nothing more embarrassing than being the person holding up the line because your bags are too heavy. Then, you have to open everything up and frantically transfer articles of clothing and other items from bag to bag. Avoid the dirty looks and frustration from holding up the line of weary travelers with your own personal luggage scale from EatSmart. This tiny tool makes it possible to accurately assess your bag's weight before you get to the airport.

Once you're ready to go and packed for your trip, you can make it even more enjoyable with these top tech tools. These tools help you pass the time waiting with your own source of entertainment and relive the fun memories of an amazing time in a new place.