What is an IP65 Rating?—Know Your Tech's Dust and Water Resistance
Posted On: Mon Jan 24 07:00:00 GMT 2022
An IP rating is a measurement of a device's resistance to solid debris and liquid. The International Electrotechnical Commission originally established the IP rating system in 1976, which "grades the resistance of an enclosure against the intrusion of dust or liquids." In addition to the acronym IP, short for "ingress protection," each rating consists of two numbers: the first number (between 0 and 6) indicates the device's level of protection against solid debris, while the second number (between 0 and 8) notes how effectively your device is protected against liquid.
From smartphones to smart watches, from wireless power banks to portable LED lights, most of us would be lost without our tech. However, it doesn't take much to cause irreparable damage—if your device doesn't have built-in protection against foreign debris, then even the tiniest bit of dirt or water could spell disaster. That's why, when it comes to investing in new tech, it's crucial to do your homework ahead of time, especially when it comes to the device's IP rating.
The higher the number, the greater the protection—and when it comes to protection, an IP65 rating is more or less the gold standard for power banks, lights, and other types of consumer tech.
What Does an IP65 Rating Mean for Your Device?
A device with an IP65 waterproof rating offers robust protection against damage from both dust and liquid. But what do the numbers in an IP65 rating mean for your device, exactly? First of all, the 6 serves as proof that your device is effectively dust-tight. Second, a water protection rating of 5 indicates that the device is "protected against jets of water." You can use your phone in a rainstorm or in the shower, but you can't take it scuba diving. When you put these numbers together, a device with an IP65 rating boasts an effective defense against most dust and water damage.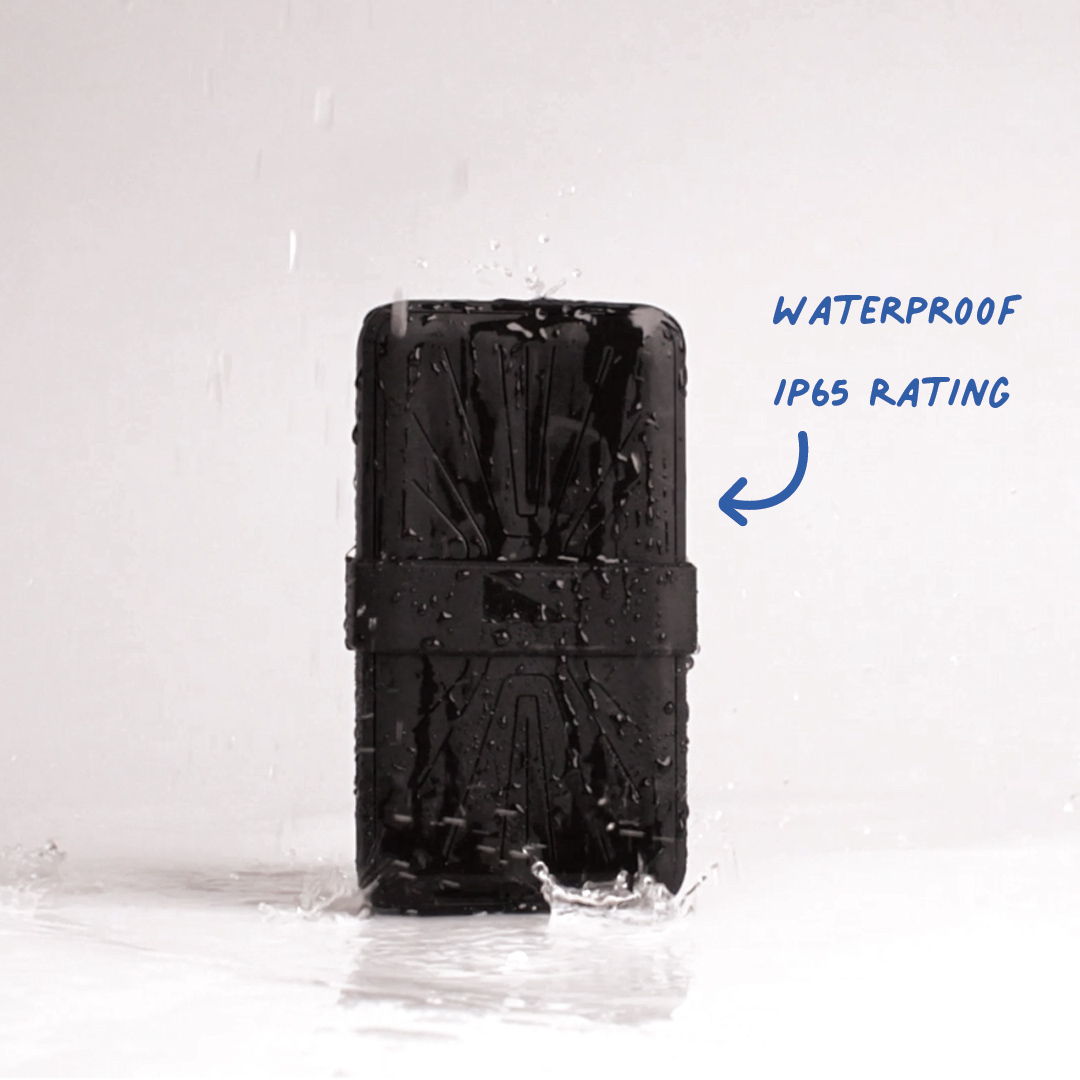 What Devices Have an IP65 Rating?
Virtually all smartphone manufacturers today are developing products that offer some degree of dust and water protection. In fact, many of the new, flagship devices from Apple, Samsung, and Google boast up to an IP68 rating, meaning they can actually be completely submerged in water without suffering damage.
However, these devices are just the tip of the iceberg. Cascade Wireless Power Banks­ not only charge devices quickly on-the-go, but each features an IP65 waterproof/dustproof rating. The same can be said for Lander's portable LED lights. From the Boulder Lantern to the Kiva Headlamp, each holds an IP65 rating, making them dustproof and highly resistant to snow and water damage.
Our personal devices are more important to us today than ever before. Luckily, it seems the days of frantically throwing your phone in a bag full of rice after dropping it in a puddle are long gone. Now, if your phone (or power bank or portable LED light) happens to get wet, you simply dry it off and you're good to go. Whether you're going for a twilight run in the rain or heading to the backwoods for some off-the-beaten-path camping—even if you're just scrolling through your Instagram feed while lounging poolside—nothing compares to the peace of mind you'll get knowing your device is protected against damage caused by dust, snow, and water.