Shop Portable Outdoor LED Lanterns for Fall: Because It's Not Time to Come in Yet
Posted On: Fri Oct 29 07:00:00 GMT 2021
Fall is in the air and most outdoor enthusiasts will be spending as much time as possible outside before autumn gives way to winter. However, as the days get shorter, you may want to take inventory of your gear—particularly your collection of lanterns and headlamps—before heading to your favorite campsite, hiking trail, backyard party, or fishing spot.
When was the last time you bought a new lantern or headlamp? Do you own mostly incandescent or LED lights? Do those you currently have emit warm or cool light? If you find that your old gear should be replaced, or if you feel you should add an LED headlamp or lantern to your existing collection, don't wait until next summer. You can grab new portable outdoor LED lights now and use them before winter forces you indoors.
What Makes LED Lights So Much Better Than Incandescent?
While its roots can be traced back to 1927, the LED light didn't really become popular for residential use until the early 2000's. By 2008, they had become popular in schools, offices, and hospitals. Today, LED lights are widely accepted as the gold standard when it comes to lighting—so much so that National LED Light Day was created in 2016, and has been celebrated on October 7th every year since.
When compared to other light bulbs on the market today, LED lights boast loads of features their competitors could never hope to match. They're more durable, have a longer lifespan and use up to 90% less energy than their incandescent counterparts. LED lights are also now widely available in a range of colors, including the soft, yellow light you'd expect from an incandescent bulb. Different light colors and "color temperatures" are better for various situations, but when it comes to portable outdoor LED lanterns or headlamps, warm light is the way to go.
Shop New Portable LED Lanterns or a Headlamp for Fall
Lander offers a wide range of cutting-edge lighting solutions perfect for fall and most outdoor activities. Boulder, Lander's newest portable lantern, is part power bank and part smart lantern, producing 350 lumens of ultra-bright, yet warm, soft light. Plus, Boulder can charge five devices at once—four wired, one wirelessly—and is easily controlled via smartphone app, making it perfect for social gatherings and large outdoor expeditions.
If you don't need something quite so big, Lander's Cairn Lantern + Power Bank may be just what you're looking for. Also available in two different versions—Cairn XL Smart Lantern + Power Bank and Cairn Mini Lantern—each features an innovative built-in anchor system, allowing you to attach the lantern to virtually anything. All Cairn lanterns are durable, waterproof, and versatile, while the Cairn and Cairn XL each have built-in power banks, making it easy to charge your wireless device(s) on the go.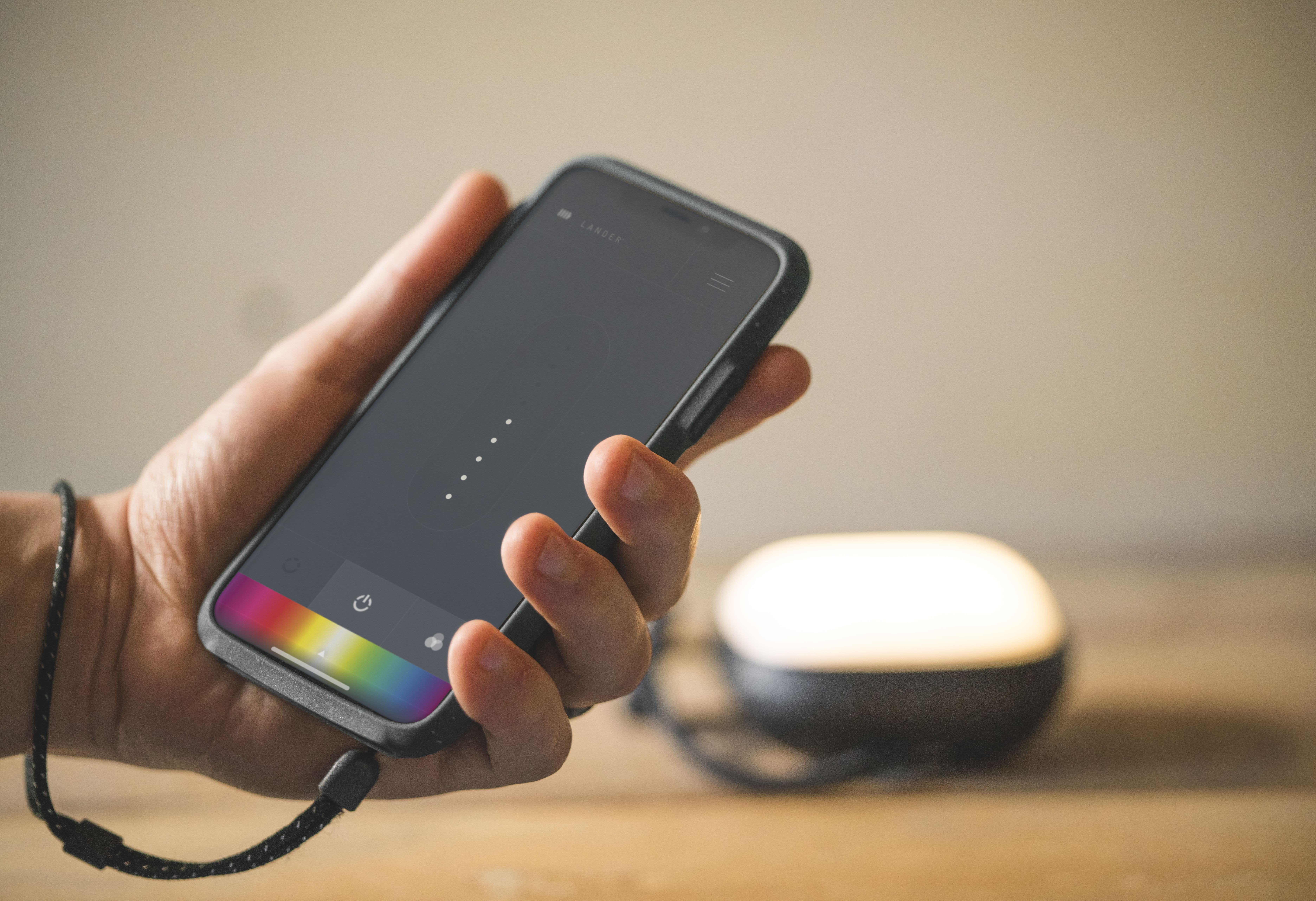 Lanterns are just the beginning—the Kiva headlamp is a revolutionary outdoor essential you never knew you needed. Designed for any adventure, this durable headlamp features an integrated USB, a sweat-wicking band made from Repreve® performance fiber, and is capable of running up to 40 hours on a single charg
If you love spending time outdoors, the call of the wild is impossible to ignore—but shouldn't you make sure you have all the best gear before you answer? Next time you venture off the beaten path, whether you try to squeeze another adventure or two into this season or you plan to wait until the spring, Lander's family of groundbreaking portable outdoor LED lanterns and headlamps will light the way.